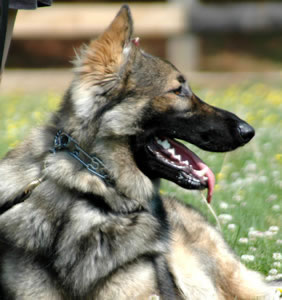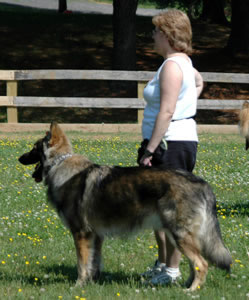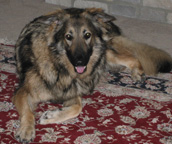 WhiteFangs Orion's Belt O'Zion aka Orion
b. February 21, 2003 | Pet | more pictures
sire: GV bCh Zion's A-Tribute to Snow's Grizz | dam: Zion's Buffy the Dragon Slayer
WhiteFangs Orion's Belt O'Zion aka Orion is a plush golden sable born 2/21/03 out of the first Buffy/Grizz litter from New Zion Shilohs. He has been raised in our home, as part of our family, sleeping next to my bed at night. Orion has been a challenge, with his very stubborn, independent nature. Although he is very loving to our family, and loves to cuddle, he is also very protective of us. He doesn't like strangers coming into his home, something we have been working to correct.
Orion and I have been attending obedience classes, completing up to the sub-novice level, and hope to continue obedience lessons, and eventually, compete in obedience trials and Rally-O.
Orion also has huge prey drive. I've channeled this through sheep herding lessons and competitions. He currently has his first herding title under the American Herding Breed Association (AHBA), the Herding Capability Test (HCT) and we are working on his second title, the Junior Handling Dog (JHD).
I had originally planned on showing and breeding Orion. However, his show career came to an end when he failed to hold his ears erect. That's how I became an expert at ear bracing. But, no matter what I've tried, his ears haven't gone up. I was also planning on breeding Orion. However, he didn't meet our ISSR breed's very strict breeding guidelines. His hips are somewhat loose and he has a mild heart murmur. Neither is indicative of serious health problems, but, it was decided by Tina & Lisa Barber and myself, to withdraw him from breeding as we strive to only breed the best of our dogs.
So, he will be out pet Shiloh, we will continue with obedience and sheep herding, as I continue to train as an ISSR breeder, and look forward to my next addition, another male Shiloh who will hopefully become my foundation stud.