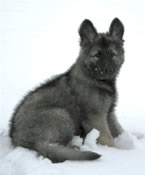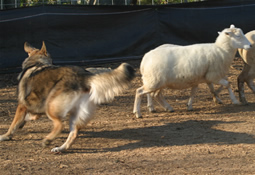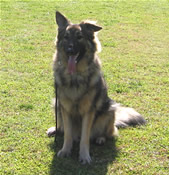 "Striving for the Ultimate Companion"
Welcome to WhiteFang ISSR Shilohs, located east of Leesburg, Virginia, forty miles west of our Nation's Capital. I am proud to be a licensed breeder of the Original Shiloh Shepherd dog, working under the guidance of the Breed Founder, Tina Barber, and under the mentorship of her daughter, Lisa Barber. Our dogs are and will only be registered under the International Shiloh Shepherd Registry (ISSR). I am also a member of the Shiloh Shepherd Dog Club of America (SSDCA) and of our local chapter, the Shiloh Shepherd Dog Club of America-Mid Atlantic Chapter (SSDCA-MAC). I've also signed the ISSR Breeders Agreement and the ISSR Breeder's Code of Ethics.
As I begin my exciting adventure into the breeding world of the Shiloh Shepherd dog, I will strive to breed for the same goals as our Breed Founder: sound hips, health, size and good temperaments; striving to produce "The Ultimate Companion".
I became a member of the SSDCA in April of 2002. I then joined as a licensed breeder apprentice in May of 2002 and I am now a full licensed breeder. I currently own one male pet quality Shiloh WhiteFangs Orion's Belt O'Zion, call name Orion. At this time, I'm excited to announce the arrival of my new puppy who I hope will become my stud male. His name is Zion's Vision for WhiteFang, call name Kuma. At this time, I do not plan to own any females or whelp any litters. But, it's a goal I have for the future of my kennel. Continue to monitor my website for further news.
Thank you for visiting!

Olga I. Twombly